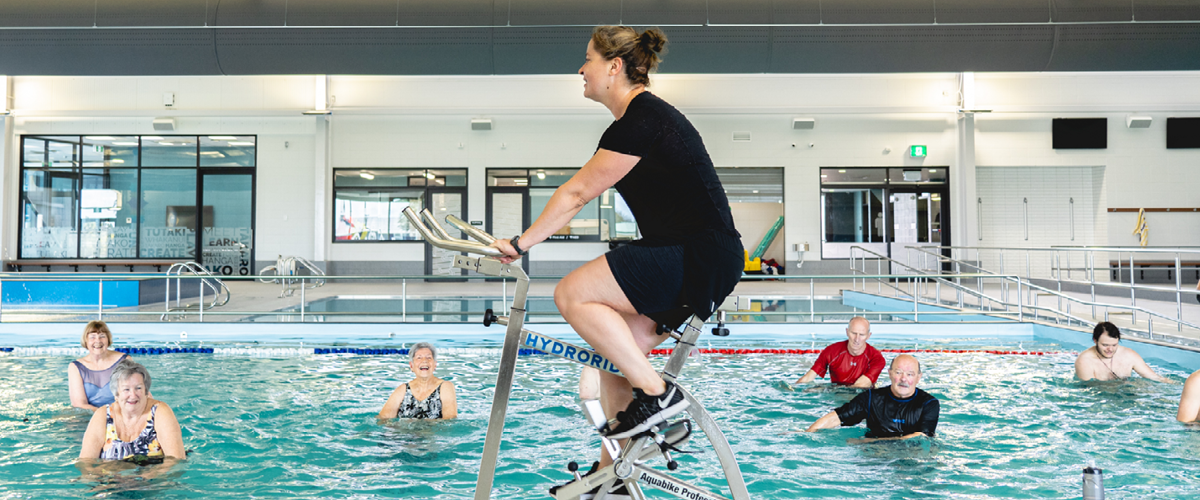 PLEASE NOTE:
Class spaces are limited. Please book your spot to avoid disappointment. Click here to book online.
For health and safety reasons you must wear aqua shoes or clean runners during our Spin Bike classes. These are not provided.
All classes are subject to short notice cancellations. Booked participants will be notified of any cancellations.
Learn about our group fitness options underneath the timetable below.
Current timetable
Monday
Tuesday
Wednesday
Thursday
Friday
Saturday
65 + Aqua Aerobics 9am - 10am (60min)

Spin Bikes 10.30am - 11.15am (45min)

Lunchtime Aqua Express 12.30pm -1pm (30min)

AquaNatal
5.30pm - 6.15pm
(60min)



Deep Water Aqua Aerobics 8.00am - 8.45am (45min)

Aqua Aerobics 9.00am - 10.00am (60min)

Strength and Balance 11am - 12pm (60min)

Pilates 5pm - 6pm (60min)

Spin Bikes 5.15pm - 6pm (45min)


Aqua Pump 9.00am - 10.00am (60min)

AquaNatal 11am - 11.45am (45min)

Lunchtime Pilates Express 12pm - 12.45pm (45min)

Please note - from 1 December, the Lunchtime Pilates Express class will change to a one hour Pilates session running from 5.30pm - 6.30pm.
Aqua Aerobics 9.00am - 10.00am (60min)

Deep Water Aqua Aerobics 11am – 11.45am (45min)

Spin Bikes
5.15pm - 6pm (45min)
Deep Water Aqua Aerobics 8.30am - 9.15am (45min)

Spin Bikes 9.30am - 10.15am (45min)

Quiet Hour 12.30pm - 1.30pm (60min)

Spin Bikes 9.15am - 10am (45min)